Solutions Suite
Wizsm PRISE
Management Reporting
Streamline the management reporting process with distributed data gathering, automated report generation and focused exception reporting.
Strategy Management
Successfully execute Management Strategy, aligining processes, initiatives and projects with strategy. Effectively cascade strategy.
Management Insights
Lack of management insights means decisions are not optimal, and could result in decisions which cost money.
Process Design and Improvement
Collaborative web modelling, automatic versioning and approval workflows enables rapid build and management of the organizations process repository.
Process Discovery and Mining
Discover "As-is" processes from IT systems, understand process variations and identify bottlenecks and root causes to improve process performance.
Low Code Process Execution
Rapidly automate manual processes using visual workflow with configurable forms, version controls and document management capabilities.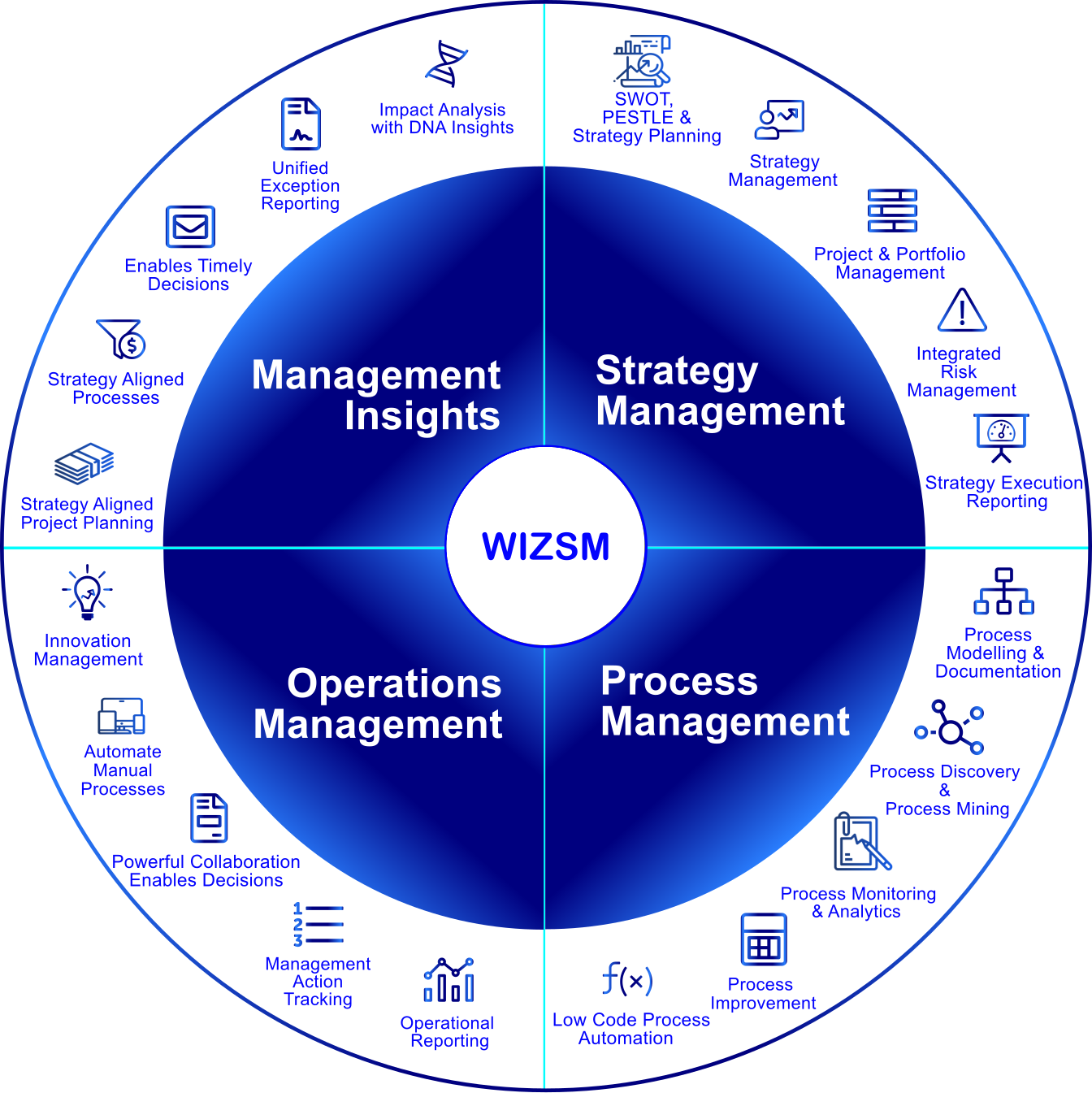 Wizsm enables Management Decisions through Better Reporting through an integrated suite of four modules. Contextual insights are available at relevant points across the reporting process that enables timely decisions.
Wizsm can be deployed to address multiple use cases providing faster return on investment. Users benefit from using one product, and information is delivered through one unified and integrated interface. The solution is 50% faster to deploy and more cost effective than implementing independent competitive solutions. In addition, as the all the relevant information is available in a consolidated view, it makes managers aware of multiple perspectives enhancing decisions.
The Wizsm Solution suite is collaborative in nature allowing users to communicate via direct chat and discussion boards against content, enabling insight and better decisions.