Strategy
Roadmap from the What to the How
Wizsm PRISE® is a Best Practice Methodology which provides organizations with a roadmap to effective Strategy Execution. PRISE® stands for Process & Risk Integrated Strategy Execution. It integrates Processes, Risks, and Initiatives with Strategy to enable Organizations to successfully Execute their strategy. The Wizsm product suite is built using this embedded methodology.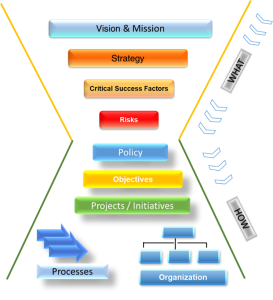 The Wizsm PRISE® Product Suite, provides a replicable roadmap to Strategy Execution, which takes us from the "What to the How". It addresses the pitfalls of having different Management Frameworks run in silos, independent of each other and it provides a holistic view of all management information enabling better decisions.
In their endeavor to achieve the Organization's Vision, organizations follow an array of Management Practices.
Strategy Management based on the Balanced Scorecard methodology.
Performance Management to measure a multitude of performance areas, including Departmental Performance.
Process Management to effectively execute strategy through efficient, strategy aligned processes.
Program and Project Management to successfully deploy Initiatives, Programs, and Projects linked to Strategy.
Risk and Opportunity Management to be better prepared for events, that have a negative or positive effect on Strategy.
Quality Management to strengthen the Organization's competitive position.
The Wizsm PRISE® Methodology, addresses this key challenge of ensuring that not only are these frameworks harmonized, but as well are aligned to the desired Strategy of the Organization.
At the heart of the Wizsm PRISE® Methodology, is the ability to map and generate the Organizational DNA. DNA is made up of a chain of base pairs of chromosomes. Wizsm identifies and utilizes pairs of information (E.g., Technology related to Processes or Initiatives related to Strategic Objectives) to form the base pairs of Organizational DNA.
As mentioned by Jim Sinur, on the Hot Vendors in Digital Business Platforms report from Aragon Consulting, "Enterprises are looking to plan and model their digital transformations and their use of DBPs (Digital Business Platforms). There are few planning tools for digital transformation that go beyond spreadsheets and power-point. What is required is a planning instrument delivering a business management cockpit, working in both prediction and measurement modes."
The Wizsm PRISE® product suite is pioneering Technological Convergence of applications with an "Insight First" approach, which aims at providing ready "Contextual Insights" to each stakeholder based on the information available to them.
The solution is an integrated set of modules for Business Process Management, Performance Management, Low code BPM with Integrated Document & Content Management, Advanced Business Analytics & BI, and provides management insights into data at the Operational, Tactical & Strategic level.